Singapore's Best
Sensitive & Acne Skin Solutions

Be gentle on your skin and treat it with naturally derived plant based solutions
Terms and Conditions:
1 All prices stated are subjected to 7% GST.

2 This promotion is only applicable to 1st-time customers aged 21 and above.

3 Customers below 21 years old need to be accompanied by a parent/guardian.

4 This promotion is non-transferrable to other promotions or offers from Caring Skin.

5 Caring Skin reserves the right to change the terms and conditions without any prior notice.

6 Promotion is valid till 30 April 2019
7 Valid for Singaporeans, SPRs and holders of SP/WP/EP with minimum 6 months validity.
Why are our Sensitive Solutions so effective?
Sensitivity is the most complicated and difficult condition to treat - as we have to understand the clients' lifestyle, home care products and treatment history to customise a suitable treatment. Our certified estheticans are well trained to handle sensitive skin with delicate care, using a special technique during extraction that will not leave the skin with redness or downtime after the treatment.
Applicable to the following 90 mins extraction facials, customised based on your unique skin profile
OxyVital Facial (Best Renewal Facial)
A regenerating oxygenating treatment enriched with aloe vera and chamomile to diffuse redness.
Sensivital Plus (Best Strengthening Facial)
Activates micro circulation and increases skin's resistance against environmental stress.
Rosa C3 (Best Desensitizing Facial)
Provides immediate relief of discomfort and tightness, reducing irritation and refines pores.
Why are our Acne Solutions so effective?
Many acne treatments in the market are chemically harsh for the skin, which may lead to dryness and sensitivity. When the skin is fragile and weak, the acne recovery journey slows down. Alternatively, oral medication may be introduced with adverse side effects and is harmful to the body in the long run.
At Caring skin, we believe in using plant-based, all natural ingredients to treat acne as it is gentle toward the skin yet able to effectively deliver good results - treating both the inner and outer layers of the skin. Our gentle treatments are safe to perform on a long-term basis as maintenance.
Applicable to the following 90 mins extraction facials, customised based on your unique skin profile
Acne Clear Up (Best Blemish Free Facial)
Clear Blemish and purify the skin while stimulating skin cell renewal.
Plantomer Soothing (Best Recovery Facial)
100% Natural Ingredients used to promote skin healing, s

oothes and calms the skin

 
Nano Perfector Rainfall Facial (Best Smoothing Facial)
Smoothens the skin, Lighten Scars and Accelerates Skin Healing
Online Exclusive: FREE LED Light Therapy Machine worth $188!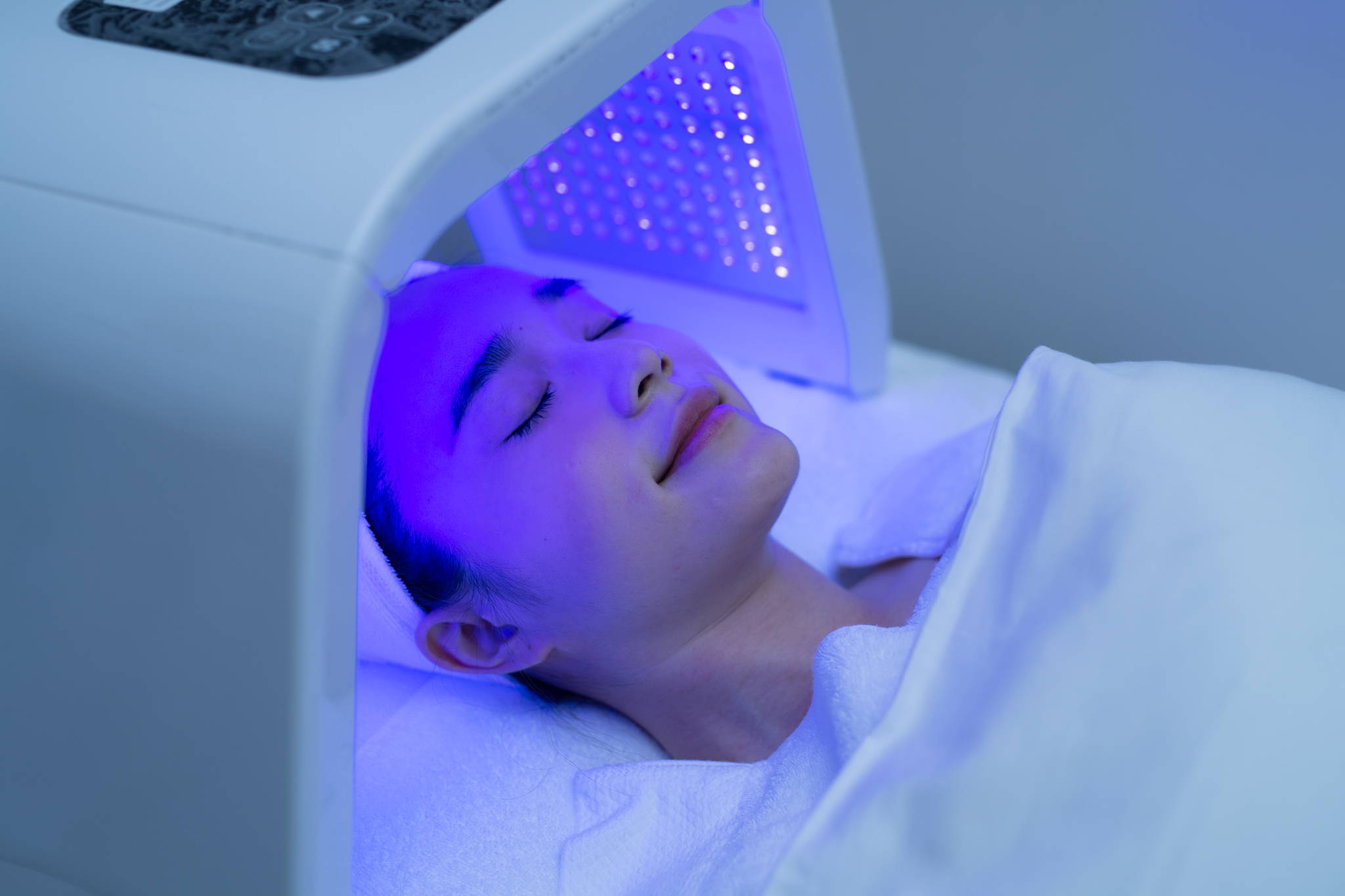 LED (Light Emitting Diodes) are tiny light bulbs that emit non-thermal specific wavelength of visible light. It is a safe and non-invasive method to stimulate the skins natural repair and rejuvenation process. Improves skin radiance and glow, normalises cellular imbalances and reduces redness.
---
When it comes to your skin, we do not make assumptions
Every facial includes a complimentary high technology VISIA Skin Analysis to help you better understand your TRUE skin concerns.
Areas of Concern Measured:
Wrinkles

Spots

Texture

UV Spots

Brown Spots

Red Areas (Sensitivity)

Pores

Porphyrins (black and white heads)
Over 800+ Positive Reviews on FB & Google

"I was suffering from hormonal breakouts and was desperate to find a facial spa in Singapore. Typically these places are pushy and hard sell but I've been super impressed with Caring Skin.
I've seen significant results in just one facial - my breakouts have stopped and my skin has tremendously stabilise.
Now in my 3rd session, I use minimal concealer and feel a lot more confident about my skin. Recommend this to anyone who is serious about their skin health."
Fidah Rashid
"The philosophy at Caring Skin is simple: they work with you to identify what works for your skin, and adapt this process throughout the entire journey, depending on how your skin condition has evolved through each session.
They don't just blindly administer treatments and blindly apply products; they explain and make sure the customer understands the process and always ask for feedback.

What I like best is that they are not pushy with their packages and skin care products, and that their primary focus is always on ways to transform, improve and maintain your skin. I know I am in safe hands with these dedicated professionals, and highly recommend Caring Skin."
Virnice Tan
"I suffer from combination and sensitive skin with hormonal acne and scarring. After just a few sessions I have seen a significant improvement in my skin condition.
I lived my whole teenage to adult life thinking that I have oily skin but after their skin analysis, lo and behold, my skin is actually very dehydrated and sensitive. After using their products and facial programmes specially catered to my skin needs, my skin is a lot better now. My scarring has also lightened. Extractions are not so painful and shoulder massage is the best after a hard day at work."
Mumtaz Yusoff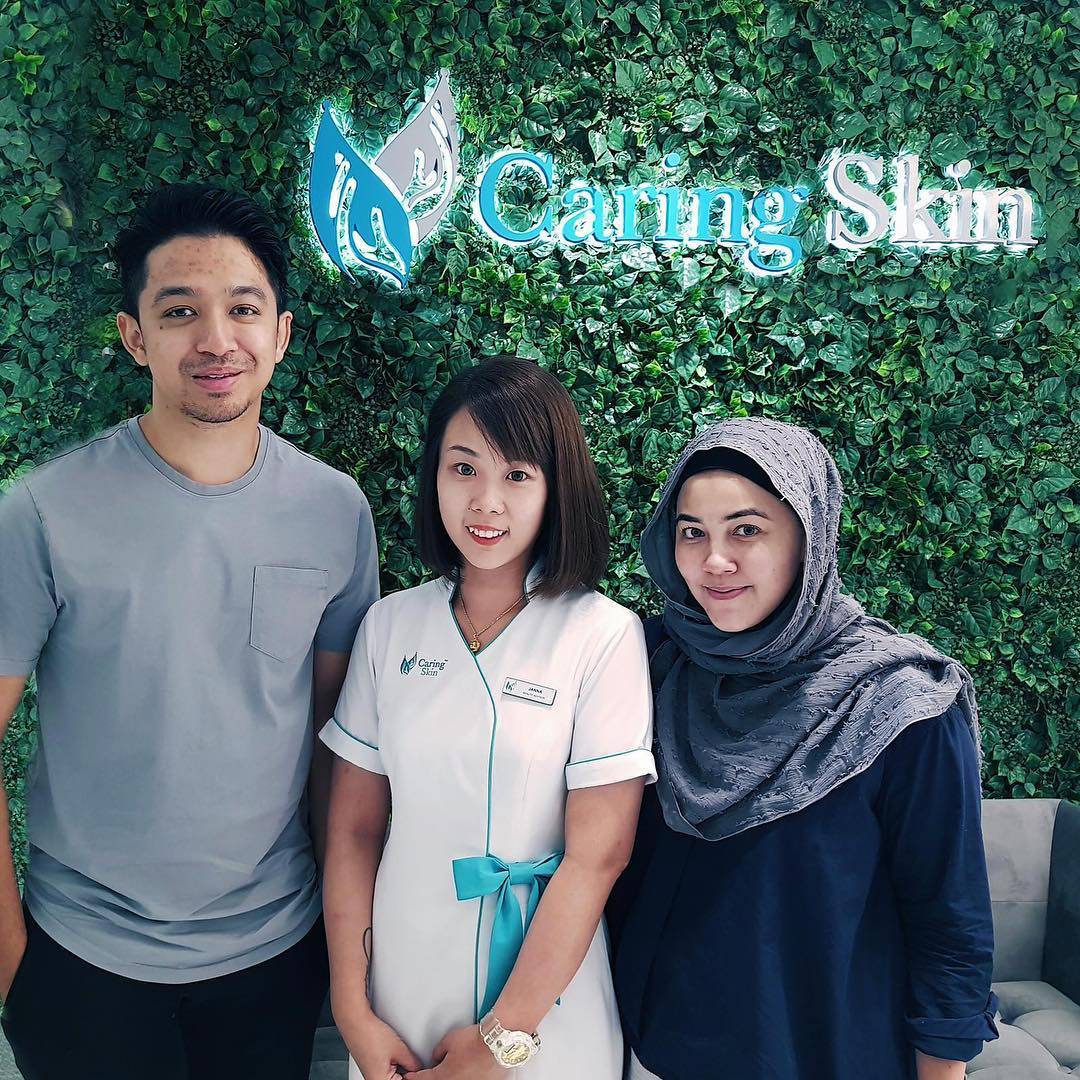 "
"After only 3 treatments and of course religiously practicing good skincare regime, my breakouts reduced and now we are on our way to lighten the scars."
— Syarif @syarif.ig
---
"
"I've been with them for close to a year now and it made so much difference to my skin. I love how delicate they are with their routine, making sure your skin is well taken care of during and after each session."
— Xenia @hotcheekylace